Behind the scenes of your autumn city trip
A smoother service thanks to Mercura and TENTE's innovative hotel carts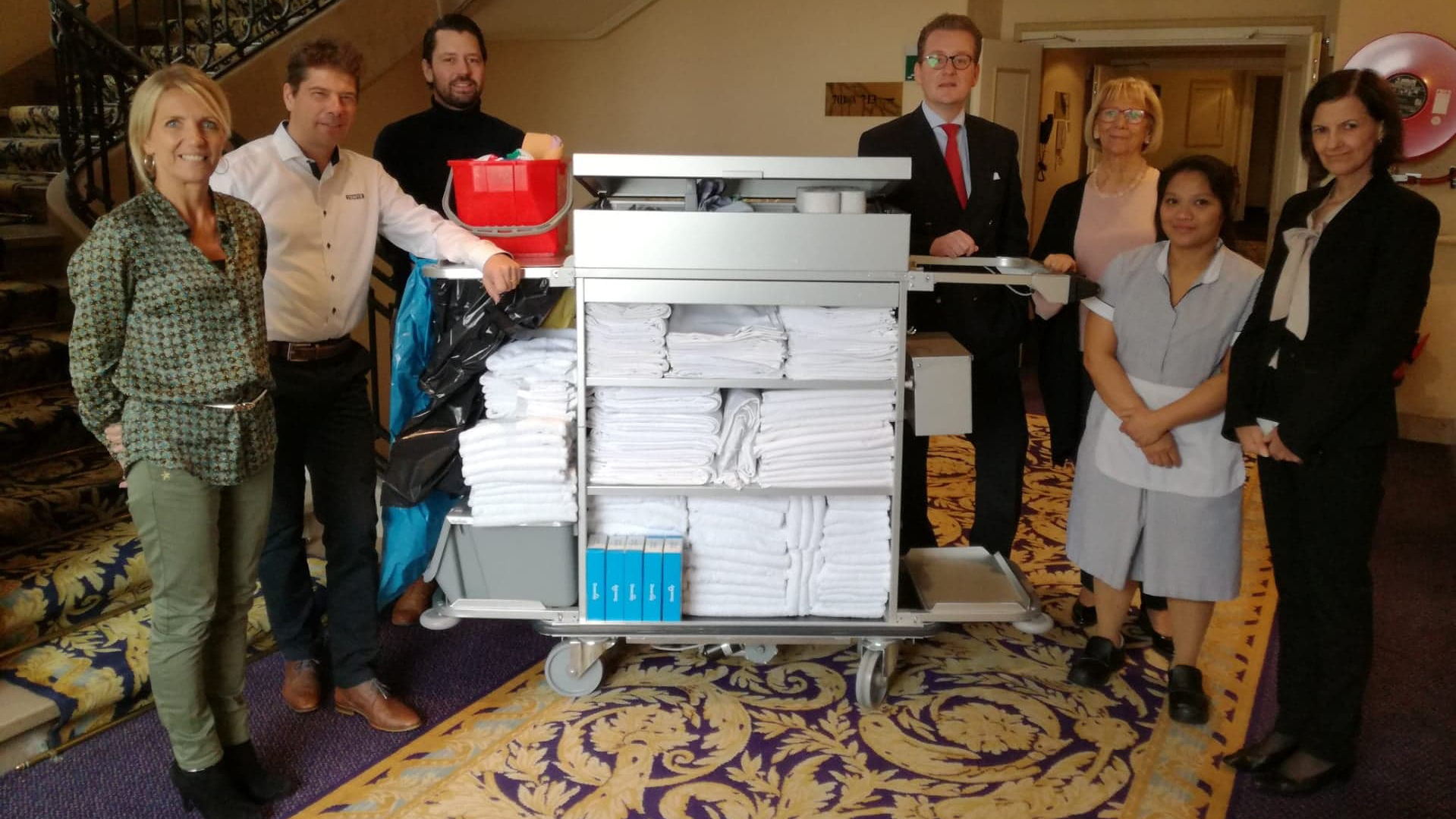 While you enjoy a wonderful city trip this fall holiday, the staff in your hotel are working hard, pushing heavy carts full of towels, bed linens, and room service orders that can weigh up to 150 kilos. In order to make their work less stressful, the Belgian trolley manufacturer Mercura and wheel manufacturer TENTE joined forces to develop service vehicles with electric drive wheels. Their new carts make work for the staff in hotels a lot more pleasant, ultimately reducing their sick leave, and ensuring that your room service runs even more smoothly.
Service trolleys stacked full of bedding and towels are a familiar image in hotel corridors. These carts are not so easy to push and maneuver, especially over thick carpeting that creates a particularly high rolling resistance.
The renowned Le Plaza Hotel in Brussels - the Official Supplier to the Belgian Court - was looking for a solution to make work for its approximately 100 employees less strenuous. They approached Mercura Industries Belgium, the manufacturer of light aluminum service vehicles for hotels, cruise liners, and healthcare institutions, to develop an ergonomic innovation that reduces backbreaking work. In some cases, a lighter car is not enough which is why Mercura, in turn, joined forces with the wheel manufacturer TENTE to create the ultimate solution.
Electric drive wheels and handlebars
TENTE mounted an electric drive wheel, the E-Drive flex, under the trolleys for the room and mini-bar service, which also has a control unit on the handle. This allows service cars to get more support and agility whilst driving.
"We have perfected the innovative system step by step in close collaboration with Mercura," explains Claude Cardoen, Managing Director of TENTE. "We have adjusted the parameters of the engine to the weight of the cars and the battery performance adapted to the requirements of the staff driving around the cars. The adjustments should improve working conditions and reduce muscle strain. To ensure that the adjustments achieved their purpose, the service cars have been thoroughly tested by hotel staff."
Higher productivity, better ergonomics
It's a double win for the Le Plaza Hotel. "Both the well-being of our employees and the service to our customers have improved," says Monica Banu, Executive Housekeeper of Le Plaza Hotel. "We noticed that staff satisfaction is increasing. They use less force to move the cart. We expect that this will result in a decreasing number of back complaints and absence. Because our employees can do their work faster, they also have more time for customers. That increases their job satisfaction, which is also nice for our hotel guests."
/////
About TENTE
Better mobility. Better life. That is TENTE's philosophy.
TENTE manufactures and supplies innovative, high-quality wheels and custom-made castors for various sectors including medical, institutional, industrial, and heavy-duty. They strongly believe that quality wheels determine a product, which is why TENTE is always looking to improve and solve problems. Customers in more than 100 countries appreciate the robust, reliable, durable, and functional design of our wheels.
With offices all over the world, TENTE's headquarters are located in Cologne, Germany where experienced in-house designers and engineers develop our products using innovative techniques. As a result of our quality-ensured practice, they have acquired a leading position in the global market.
About Mercura
Mercura is a Belgian company specializing in the manufacture of high quality aluminum carts for professional use. For more than 60 years, Mercura Industries has worked with anodized aluminium, building its reputation for high quality mobile equipment. Their innovative team puts its expertise at the client's disposal to tailor the optimum solution to their specific needs.
Leader in the sector, Mercura is a key partner for the hotel industry, cruise ships, hospitals and nursing homes. Their range is constantly updated to accompany the changing professional environment, whilst quality and durability remain their fundamentals. The users of the aluminium trolleys particularly appreciate the lightness, manoeuvrability and ergonomics.
All the products in Mercura's range are produced in their factory in Brussels, the heart of Europe, and are available in more than 70 countries through an international network of specialized distributors and subsidiaries in Switzerland, Canada and the US.
About Le Plaza
Le Plaza, the luxurious hotel located in the center of Brussels
Situated in the heart of Brussels, Hotel Le Plaza is only a few minutes away from the famous Grand Place, shopping area and bars and restaurants. This art-deco palace dating from the 1930's is one of the last independent hotels of the city and has been Rewarded Belgian Royal Warrant Holder of Belgium.
The 189 rooms and suites combine the prestige of traditional rooms and all modern facilities. With its 10 meeting spaces, among which its plenary room called "The Theatre", one of the first cinemas in Brussels, Le Plaza will host your events for up to 700 guests.
Brochure TENTE E-Drive Flex
PDF - 6.6 Mb
Download
Brochure Mercura
PDF - 11 Mb
Download