Come and discover the reinvention of the wheel that will transform the hotel industry starting this fall
Get a behind-the-scenes look at the only Official Supplier of the Belgian Court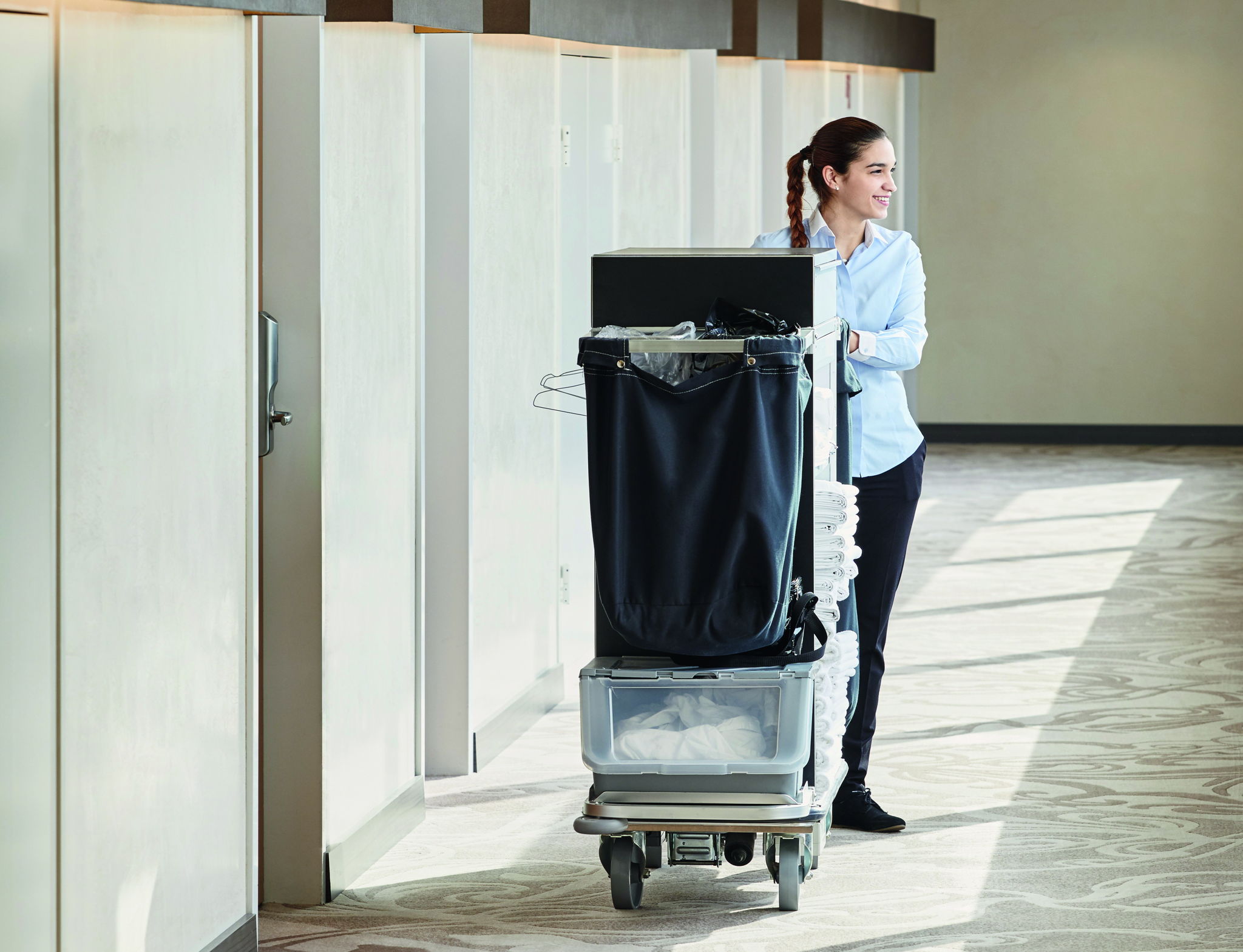 In the tourism sector that recently had to endure a lot of blows, it is nice to be able to deliver some good news, especially when it concerns a Belgian innovation that will soon make the lives of thousands of hotel employees and guests more pleasant. Mercura, TENTE, and Le Plaza Hotel would like to invite you to discover a unique, ergonomic invention for the hotel industry that will take well-being and service to the next level.
It's a known fact that hotel visitors can expect to see hotel service staff push extremely heavy carts loaded with towels, bedding, and room service orders over heavily carpeted floors. Did you know that those things can weigh up to 150 kg?
Correction: it was a known fact. From now on, hotel staff no longer have to endure backbreaking work and long waiting times for guests are over. The Belgian trolley manufacturer Mercura and wheel manufacturer TENTE have joined forces to create a smart and revolutionary solution: light, aluminum service trolleys with electric E-Drive Flex wheels. The result? An ergonomic design, fewer back problems, and overall smoother hotel service.
Where?
The renowned Hotel Le Plaza on the Adolphe Maxlaan near the Grand Place in Brussels
Hotel Le Plaza is the first hotel in Belgium to test Mercura and TENTE's new service cars, and are focusing on increasing the well-being of staff and guests. This is an additional boost for this prestigious hotel's status, which is also the only Official Supplier to the Belgian Court.
When?
Wednesday, October 30, 2019, from 9:30 am to 11:30 am
Program
9:30 am Reception
10:00 am Welcome by Laurent De Kerf, General Manager of Le Plaza Hotel
10:05 am Behind the scenes tour with an extensive demo of the service car
10:20 am Technical explanation by Pascal De Koninck, wheel expert, TENTE and Ann De Weirdt, Sales Manager bij Mercura
10:35 am Q&A/interviews with Le Plaza Hotel, Mercura, and TENTE spokespeople
11.30 am End
Would you like to join us? Then please contact us via [email protected].
/////
About TENTE
Better mobility. Better life. That is TENTE's philosophy.
TENTE manufactures and supplies innovative, high-quality wheels and custom-made castors for various sectors including medical, institutional, industrial, and heavy-duty. They strongly believe that quality wheels determine a product, which is why TENTE is always looking to improve and solve problems. Customers in more than 100 countries appreciate the robust, reliable, durable, and functional design of our wheels.
With offices all over the world, TENTE's headquarters are located in Cologne, Germany where experienced in-house designers and engineers develop our products using innovative techniques. As a result of our quality-ensured practice, they have acquired a leading position in the global market.
About Mercura
Mercura is a Belgian company specializing in the manufacture of high quality aluminum carts for professional use. For more than 60 years, Mercura Industries has worked with anodized aluminium, building its reputation for high quality mobile equipment. Their innovative team puts its expertise at the client's disposal to tailor the optimum solution to their specific needs.
Leader in the sector, Mercura is a key partner for the hotel industry, cruise ships, hospitals and nursing homes. Their range is constantly updated to accompany the changing professional environment, whilst quality and durability remain their fundamentals. The users of the aluminium trolleys particularly appreciate the lightness, manoeuvrability and ergonomics.
All the products in Mercura's range are produced in their factory in Brussels, the heart of Europe, and are available in more than 70 countries through an international network of specialized distributors and subsidiaries in Switzerland, Canada and the US.