PRESS INVITATION Demo Day: 16 promising start-ups show their best side
30 November 2017 | 6.30pm-10.00pm | KBC Tower | Schoenmarkt 35, Antwerp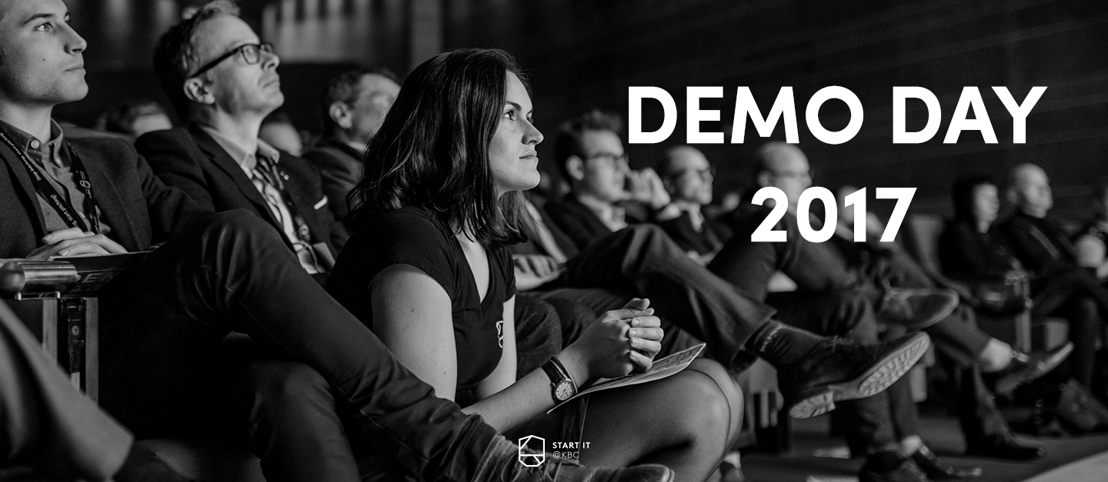 Dear Journalist,
30 November is Demo Day, the start-up event of the year!
During a series of nerve-racking, 3-minute pitches, 16 start-ups will give their all in front of a critical audience of 300 investors, CEOs and captains of industry.
Previous editions of Demo Day prove beyond a doubt that a good pitch will open doors to new venture capital. While several start-ups have, on the strength of their Demo Day pitch – been admitted to some of the world's top accelerators. This year, the standards have once again been set very high. Want to find out who will go home with the Audience Prize and the Start it @KBC Award, each worth 5,000 euros!
The 16 start-ups are currently working around the clock in preparation for Demo Day. While an experienced team of mentors is coaching them to perfect their pitch and deliver a top-class stage performance on 30 November.
Demo Day offers our start-ups the ultimate forum for promoting their business to investors and potential customers. Who, in turn, have a chance to discover and support innovative start-up talent. And you? You will get an exclusive inside view of start-up life while getting to know a few promising start-ups in Belgium.
The start-ups scheduled to present their pitch on 30 November cover both B2C and B2B domains. The companies cover a broad spectrum of sectors from health and food to real estate, design, energy, DIY, HR, artificial intelligence and machine learning:
2Grow, Bao, Belgunique, Blueberry, Chestnote, Co-libry, Condugo, Epihunter, Inmanta, Karma Karma, MindFuel, Mymesis, Sitwear, SpareSpace, Staenis, Talentree.
You can find more information about the start-ups in the press kit below.
Programme
6.30pm Welcome
7.00pm Pitch competition
8.30pm Awards presentation
8.45pm Networking even with canapés
Practical info
Thursday 30 November 2017
KBC Tower | Schoenmarkt 35, Antwerp
Care to join us? Please confirm your attendance via [email protected].
See you there!
The Start it @KBC Team
startit demoday EN 1511.pdf
PDF - 1.6 Mb
Download