PRESS INVITATION: Housewarming brand-new Start it @KBC Brussels hub
9 November 2017 | 5pm-9pm | Avenue du Port 8, Molenbeek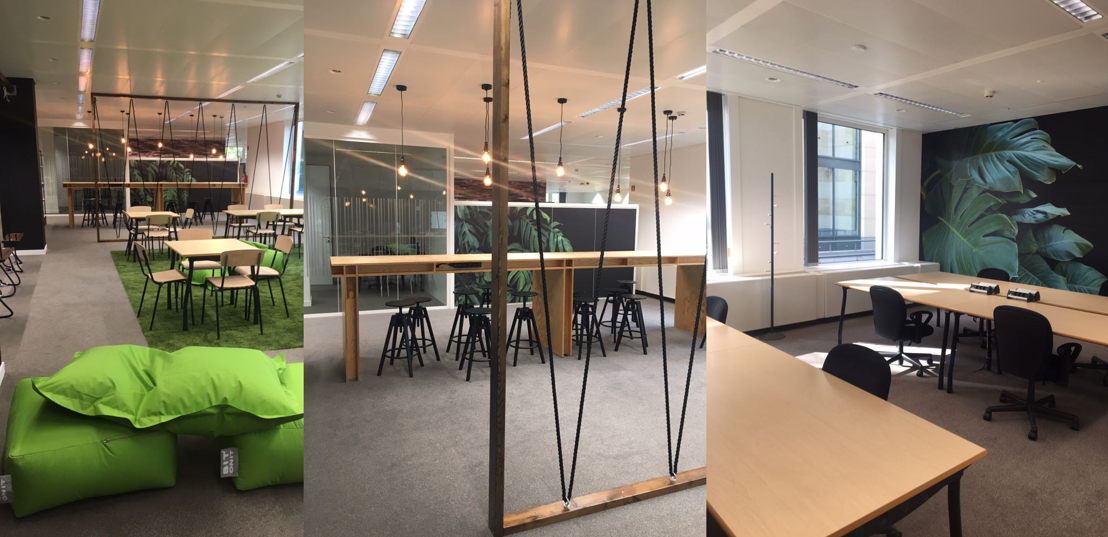 Twice the capacity, in the heart of Brussels' booming Canal district
Even stronger focus on internationalisation and diversity
Dear Journalist,
Start it @KBC's Brussels hub is moving into a brand-new co-working space in the heart of Brussels' Canal district and in so doing, is doubling its floor space for participating startups. As Belgium's largest accelerator, the move represents an emphatic declaration of intent on the capital's flourishing startup scene. With an even sharper international focus and eye for diversity.
So be sure to save 9 November in your diary now, because we want you to help celebrate the official opening of our new Brussels hub at the upcoming housewarming party.
Brussels has rapidly become one of Europe's biggest hotspots for entrepreneurs. Since Start it @KBC opened its hub in the European district back in September 2015, more and more startups have found their way to the accelerator, which has consequently started to burst at the seams. High time to change address to a location now covering no less than 800m2!
New address: Avenue du Port / Havenlaan 8, Molenbeek, a stone's throw from Tour & Taxis.
As international as it is diverse
Lode Uytterschaut, founder Start it @KBC: "Thanks to its central location and the presence of the European institutions, Brussels represents a very attractive home base for startups from every continent on the globe. Our startup community currently represents over 40 different nationalities. And over the coming year, we will be further solidifying that diversity and international focus. For example, as one of the newest members of the Global Accelerator Network (GAN), the exclusive club linking top accelerators from around the world. As a result, we are now in a position to offer our startups a whole host of additional benefits, such as the opportunity to explore new international markets at zero additional cost. Alongside these initiatives, we are continuing our Wanted: Female Founders campaign which helped significantly improve the number of successful applications into our programme earlier this year by women entrepreneurs."
New team
With a new location comes a new team, one with an equal dose of international flavour: Anna Thomlinson decided to get ahead of the Brexit curve and traded the UK in for Brussels. And she brought stacks of expertise and a wealth of international contacts along with her. Laura Lumingu, on the other hand, knows Brussels like the back of her hand and in her role as fellow Community manager, will put her thesis on gender diversity into practice at the new Brussels hub.
Opening night
Those planning on stopping by the new hub on Avenue du Port on the night of 9 November will be given a taste of the true potential nestled within Brussels' burgeoning startup scene. The resident entrepreneurs will offer live demos throughout the evening while explaining the details of their innovations in person. In addition to the expo itself, we will also be podcasting a live panel discussion with a number of top Brussels entrepreneurs.
Programme
5.00pm Press presentation: startup expo. Photo and interview opportunities with the startups and the Start it @KBC team
6.00pm Doors open to the public with continuous expo
6.30pm Welcome address by Lode Uytterschaut, Founder Start it @KBC & community managers Anna Thomlinson and Laura Lumingu on internationalisation and diversity
7.15pm Panel discussion (live podcast): "Startup life" with Hassan Al Hilou, Founder AGE Consultancy; Ingrid Renders, Founder Maison Slash; and Aline Muylaert, Founder CitizenLab
9.00pm End
Along with a range of startup food and drinks, there will also be ample opportunities for networking with the Brussels startup community.
Info
9 November 2017, 5pm to 9pm
Avenue du Port 8, 1080 Molenbeek
Care to join us? Please confirm your attendance via [email protected].
See you there,
Start it @KBC