PRESS INVITATION: Start it @KBC gets top CEOs to judge at the 17th Pitch day
Photos and press interviews: March 28th, 9 AM, Start it @KBC Brussels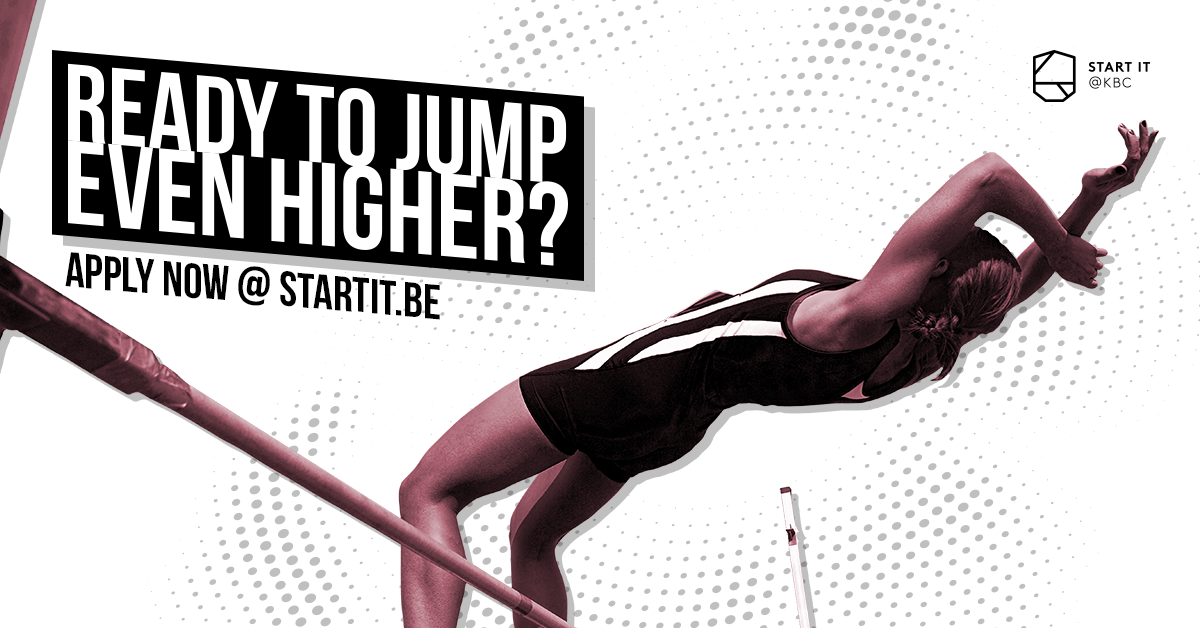 Brussels, March 18th 2019 ​ - Start it @KBC celebrates its fifth birthday with a special pitch day. The jury gets reinforcements from the CEOs of different strategic partners. Experienced top players such as Johan Thijs (KBC), John Porter (Telenet), John Baekelmans (Imec), Pascal Cools (FlandersDC), Kristof Lambert (Accenture) and Dirk Deroost (Cronos) will assess the pitches of a new promising group of start-ups, together with several other experienced entrepreneurs and experts.
When Start it @KBC launched in 2014, the Belgian start-up ecosystem was still in its infancy. Five years later, the start-ups of the largest accelerator in the country have already sold 113 million euros in products and services, and raised 160 million euros in funding. Not only is the economic impact great, the start-ups also have a lot of growth potential. For example, they are planning to hire about a thousand new recruitments in the coming six months.
Twice a year a new group of start-ups begin their acceleration process at Start it @KBC. ​ No fewer than 192 start-ups submitted their candidacy in the spring of 2019 to be part of the next wave of start-ups. About a hundred of them get the possibility to pitch their idea in person on the 28th of March at the headquarters of Start it @KBC in Brussels.
Unique experience for both start-ups and CEOs
Start it @KBC has a number of special guests lined up for the pitching start-ups on the 28th of March. The strategic partners of Belgium's largest accelerator send their top people to be a part of the jury. The following captains of industry will evaluate the pitches of the start-ups, subject the founders to a questionnaire and give them good advice to turn their company into a scalable enterprise:
Johan Thijs, CEO KBC, Trends Manager of the Year 2019
John Porter, CEO Telenet
Dirk Deroost, CEO Cronos
John Baekelmans, Managing Director, iMec
Kristof Lambert, Managing Director Financial Services, Accenture
Pascal Cools, General Manager, Flanders DC
"The presence of CEOs such as Johan Thijs or John Porter adds enormous value to this pitch day for the start-ups," says Lode Uytterschaut, founder of Start it @KBC. "How often do you get the chance to present your business plan to such experienced people? Their experience, their expertise and their wilful attitude will challenge the founders to take their start-up to the next level."
"But it's a two-way street: being one of the judges during the pitch day is also a particularly valuable experience for CEOs. It's a constant challenge for large companies and organizations to sufficiently innovate and experiment. To stimulate that start-up mentality. The pitch day shows them a cross-section of the entrepreneurs of tomorrow and gives them a unique insight into the start-up landscape."
////////
Invitation for journalists:
We kindly invite you to the Start it @KBC pitch day for a brief photo and interview moment with all CEO jury members.
Thursday March 28th, at 9.15 AM
​Start it @KBC Brussels, Havenlaan 8, Brussels
Would you like to join us? Then please contact us via [email protected].
Do you wish to interview one of the CEOs separately (after the photo moment)? Please let us know. Only scheduled and confirmed interviews are possible to ensure a smooth organisation of the pitch day. Thank you in advance!
Program (timings will be strictly adhered to):
08.45 AM: Doors open, with breakfast
09.15 AM: Welcome by Lode Uytterschaut (founder Start it @KBC) & Anna Thomlinson (Managing Director Start it @KBC)
09.20 AM: Photo op CEOs, with Q&A
09.30 AM: Possibility to separately interview CEO
09.40 AM: Departure of the jury
10.00 AM: Possibility to interview participating start-ups
10.45 AM: End
It's not possible to attend the pitches yourself. But we will send out a press release including all the names of the start-ups selected by the jury from the most recent group of start-ups within Start it @KBC.