Record number of startups pitch at Start it @KBC despite coronavirus crisis
65 startups join country's largest accelerator after fully digital pitch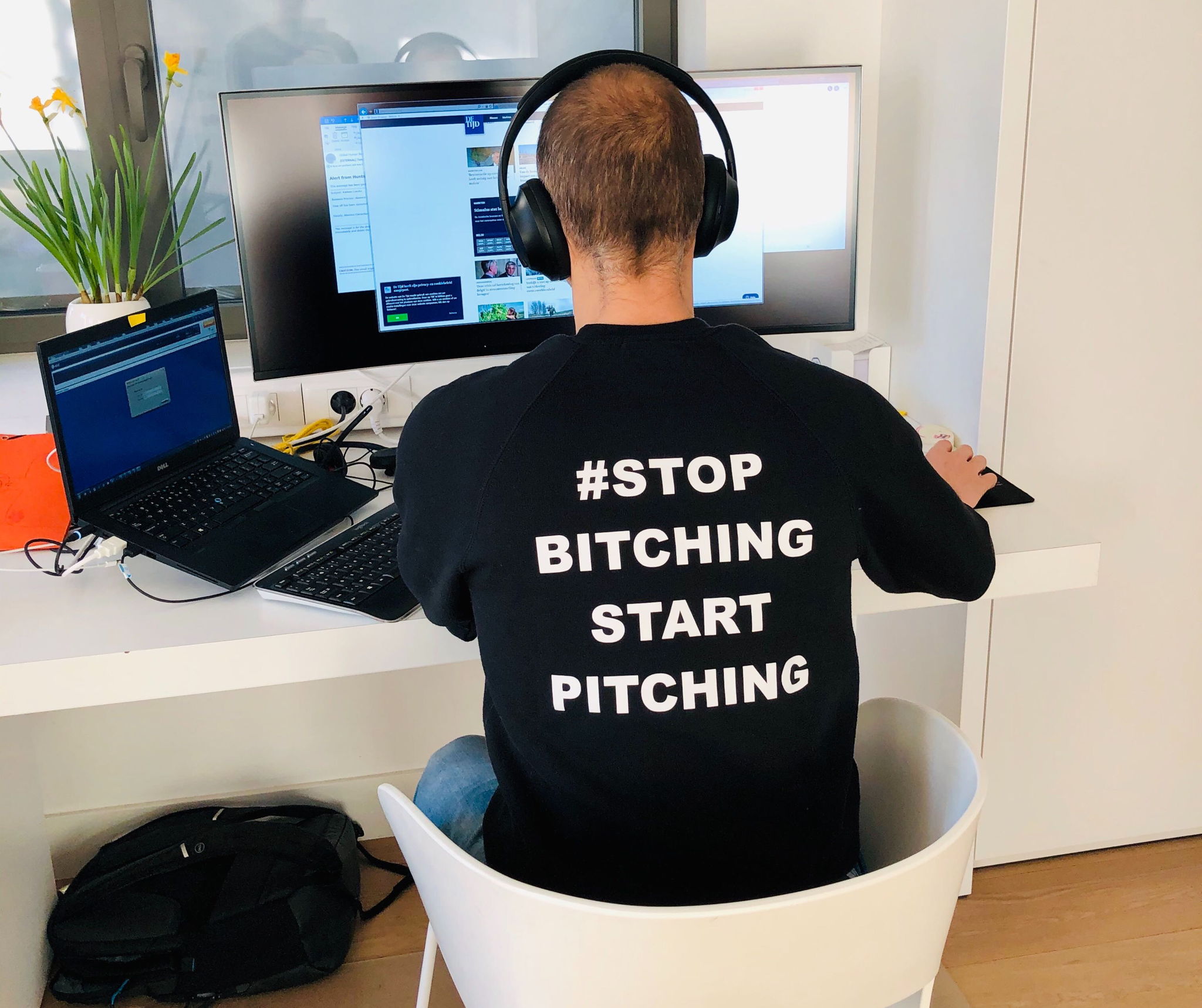 Brussels. Start it @KBC welcomes 65 new startups into its community. Nearly 200 startups came to pitch their idea digitally, an absolute record for the country's largest accelerator. In spite of the coronavirus that continues to paralyze companies on a massive scale. "The urge to do business remains very strong even today," notes Lode Uytterschaut, founder and CEO of Start it @KBC. "The hunger displayed by all the startups gives hope in these difficult, uncertain economic times."
Start it @KBC has been around since 2014 and has now hosted its 19th pitch wave. A unique pitch wave in several respects, with a record 180 startups trying to convince the jury of their business idea digitally. Never before have so many startups applied to be part of the accelerator.
"Of course, the coronavirus and the unprecedented economic crisis it causes keep the founders spellbound," says Uytterschaut. "But they persist with the idea of ​​setting up their own business. I notice that the determination to make a difference in society with their startup is even greater than in other pitch rounds. It is encouraging to see that corona is more likely to fuel rather than dampen their entrepreneurial spirit. "
Digital pitching and digital judging
The two-day pitch wave was conducted entirely digitally due to the coronavirus. A first for Start it @KBC. The founders tried to convince the jury from behind their computers and the jury's subsequent deliberations also took place online.
"It was never an option for us to postpone the pitch days," Uytterschaut emphasises. "Our motto is Business as Unusual, and that applies more than ever today. We are going to need everyone with an entrepreneurial spirit. Even though, for now, it will be digital, we want to expand the support we offer to startups even further."
Almost 900 startups in the Start it @KBC community
Of the selected startups, 11 startups are active in the data industry, which is the most popular sector. The health industry follows closely, with 9 startups. 29% of the new startups have at least one female founder. Start it @KBC puts a lot of effort in stimulating female entrepreneurship, among others via webinars and events for female founders and by striving to achieve gender balance among the juries and mentors. The road is still long, but the turn has begun. Since 2017, the share of female founders in the community has grown from 7 to 25 percent.
Start it @KBC, as the largest accelerator in the country, occupies a unique position in the startup landscape. It is the only accelerator that does not take shares in the startups, nor does it impose any membership fees or other obligations. In recent years, the accelerator has also built up a strong international network. Startups around the world can rely on mentors, co-working hubs and expertise within the Global Accelerator Network.
Start it @KBC's startups have together already raised more than 200 million euros in capital and generated a turnover of more than 150 million euros.
The new startups are 2 Princes in a Box, Accurat, Acro Companion, AMBLE, Ask Attis, Augmented Anatomy, Avantopy, b.fine, Beaubonne, BILLO, Bizzcontrol, c@r, ComplianceBoard, Connus, Data Factory, devportals.io, Diooor, Dripl, EatNChill. Sprl, EffiTrax Smart Telematics BV, Foodstorms BV, Force Majeure, Freefloat, Galenus Health, Hack the Track, Halff, huapii, Just Russel, L'ARIN, Laundrio, Loopcv, Magicor, miokoo, NannyML, NOTADESK, Optiflux, Planet B, Promatask, Re-, Riserva, roboton.io, RTLOC, RunEASI, Salty Lemon Entertainment, SofAlert, STEP, Streamside NV, Streetwaves, Talk To C, The Medical Cloud Company, the Roboy Company, Toolsquare, Trensition, Trevor Motorcycles BV, Umbi and Whoowine.
Some reactions from the new startups
"We can draw on the extensive network of expertise within the accelerator, and we gain access to connections to help our startup grow. Start it @KBC distinguishes itself by its no-strings-attached approach. Nor does it limit us in the future possibilities and obligations regarding raising capital. The fun - and soon to be renewed - co-working is also a plus. "
Maxim Christiaen and Peter Michiels, Laundrio (the first online laundry service in Belgium)
"Start it @KBC also offers its startups the opportunity to be part of GAN - Global Accelerator Network - which helps them access many of the things startups need, from technical support to server space."
Prof. Dr. Benoit Hendrickx, Augmented Anatomy (applications of artificial intelligence in plastic surgery)
"I am really looking forward to joining a vibrant network of entrepreneurs at Start it @KBC. Startups need this kind of fertile soil to grow, especially if they are bootstrapped deep-tech moonshots."
Rafael Hostettler, Roboy (humanoid robots that imitate the human body with a skeleton and muscles)
"Start it @KBC has the ideal mix of services that every startup needs, no matter what phase they are in. The mentors, each with their expertise and knowledge in a specific segment, strengthen that offer. "
uy Van Looveren, Ask Attis (an app with AI technology that allows gardeners to recognize diseases and pests on crops with a simple smartphone photo)
"We want to do business as a family and guide our children in starting a business. With all the challenges and obstacles we encounter along the way. Start it @KBC can support us in capturing attention for young entrepreneurship. There is enormous entrepreneurial potential among young people. If we activate that early, we will turn young people into the successful entrepreneurs of the future. "
Sofie Questier and Hans Keppens, with sons Ruben (9) & Jasper (11), 2 Princes in a Box (mobile escape rooms for children, in their own bedroom)