Start it @kbc presents new wave of start-ups and reveals its ambitions for 2017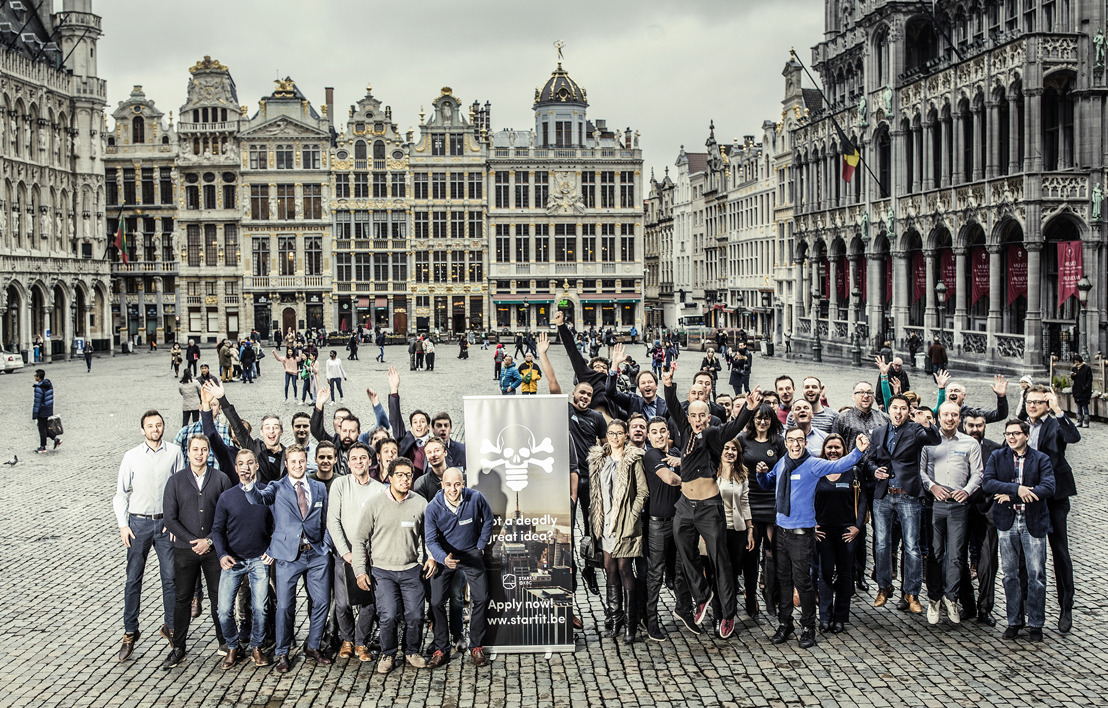 38 innovative and scalable start-ups join Start it @kbc
'Boardroom' helps start-ups focus and allows mentors to track progress
Start it @kbc and partners focus on female entrepreneurship
Start it @kbc offers its coaching services to internal innovation teams in large businesses
Brussels – Start it @kbc, the biggest incubator in Belgium, is presenting its new generation of 38 start-ups today. The panel of experts selected them out of no less than 143 business proposals that were submitted in January. Start it @kbc will support the start-ups as they launch their businesses and make them scalable. In addition, Start it @kbc will be continuing its pioneering role in 2017: the incubator is creating a Boardroom, focusing on female entrepreneurship, and launching a new corporate venturing path.
The 38 new start-ups welcomed by incubator Start it @kbc today are innovators in many areas: technology, digital, fintech, food, health, HR, media, and social engagement. The businesses are in various phases of development, from ideation to built to go-to-market.
Katrien Dewijngaert, co-founder Start it @kbc: "Over the past three years, we have helped more than 400 start-ups, and have been the pioneers in creating a real start-up culture in Belgium. And that has started to produce tangible results. Entrepreneurship is becoming more popular than ever in this country, and the number of start-ups coming to us continues to grow each year. But more than anything else, the quality of the ideas and the start-up teams is improving all the time. The 38 new start-ups are very well prepared for what's coming."
The new start-ups are:
Advocas, AppLeads, Careby, CargoCopter, Croq 'n Go, Crowdfilms, CycleValley, Doinn, Elewa, Energy Kiosks, Enigmoo, Epihunter, Equicity, Estate Eleven, FibriCheck, Gluon, Hack League, ikhebautoschade.be, Juru, Laborate!, Libertas, manual.to, Matti, My Add On, OmniFly, Pinotic, Place.Guru, PlannyMap, PlugInvest, Project Scent, Recognition, RobinFood, Skillhacker, Sleek, SLIC, Small Teaser, Wearefront, WeFeed.
You will find more information about the new generation of Start it @kbc start-ups in the press file.
The Boardroom, female entrepreneurs, and corporate venturing
Over the past three years, Start it @kbc has been a pioneer in many different areas, and it will continue to fulfil that role in 2017.
Start it @kbc has set up a Boardroom where the start-ups can present a report on their progress after three months. On the one hand, this is a good way to teach the start-ups to present their challenges and focus points clearly. On the other hand, it gives the mentors an opportunity to evaluate the progress and the engagement of the start-ups. In the Boardroom, the start-ups are given clear feedback and can find out how to continue to use the resources offered by Start it @kbc, such as mentors, coaches, workshops, events, etc.
In 2017, Start it @kbc and its partners want to attract more female entrepreneurs into the start-up scene. The incubator is encouraging female entrepreneurs to submit their innovative business proposals via www.startit.be. Not only proposals at the idea stage are invited, entrepreneurs who want to make their existing business scalable are just as welcome.
Start it @kbc will also be launching a new corporate venturing service for large companies in 2017. Internal innovation teams will now be able to make use of the expertise, training courses, networks, and facilities of Start it @kbc in the same way as start-ups. This will allow businesses to give their enterprising staff the tools they need to develop innovations and prepare them for the market.
Lode Uytterschaut, founder Start it @kbc: "We have worked on some great corporate venturing cases with our strategic partners in recent years. And now we are going to open our offer to other companies as well. Businesses invest a lot of money and effort into setting up internal innovation programmes, but they can't get past their own execution-focused structures. If you want people to think outside of the box, then why not take them out of that box and put them into the right framework? Start it @kbc offers that framework."
The next pitch wave will be on 5 May 2017. Entrepreneurs can submit their business ideas to us before that date via www.startit.be
Press-file-07-02.pdf
PDF - 4.0 Mb
Download