Start it @kbc wants women to be a rising force in business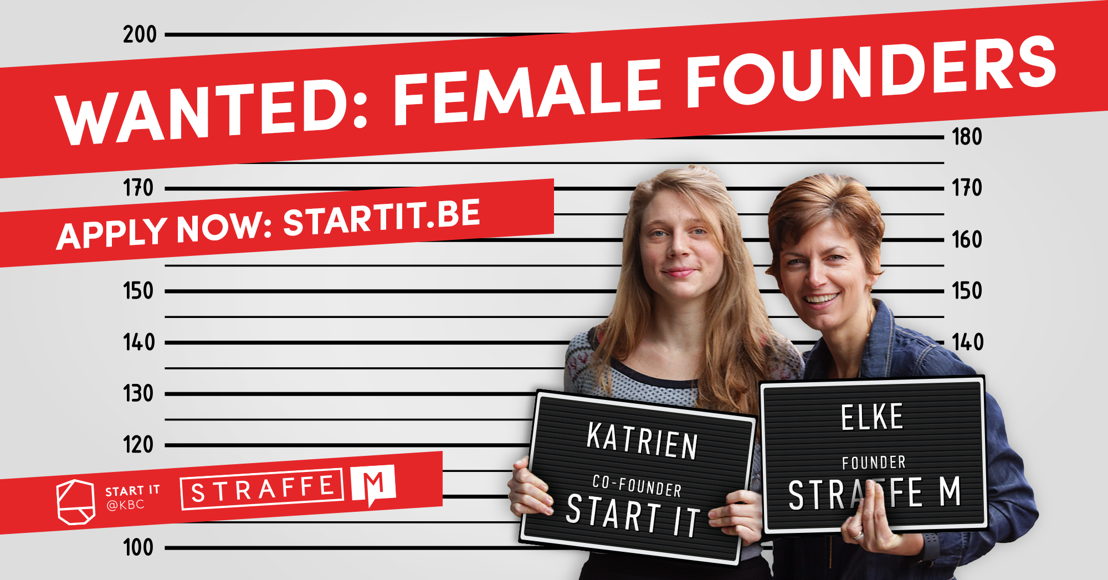 Huge untouched potential for the Belgian economy
​In search of start-ups and scale-ups with female founders
In search of female mentors
Lowering thresholds and breaking stereotypes
On 8 March, International Women's Day, Start it @kbc will be launching a campaign together with Straffe Madammen to boost female entrepreneurship in the Belgian start-up scene. The aim is not only to increase the economic potential of the country, but also to bring about a fundamental change in attitudes in the business world.
The figures speak volumes: in Belgium, barely 33% of self-employed workers are women. This earns the country the dubious record of having the lowest starters level for women in the European Union.
"Yet the potential is there, and with this campaign, we aim to develop that potential", stresses Katrien Dewijngaert, founder of Start it @kbc. "We want to encourage female entrepreneurs to take chances and create opportunities for themselves by submitting their innovative business ideas via www.startit.be. With this campaign, we are aiming at both start-ups and existing entrepreneurs who want to expand and upscale. But we are also going to show female mentors how they can support start-ups with advice and information."
A new culture
How? By fostering a new business culture and mobilising everyone –universities, colleges, women's networks, media, entrepreneurs– to rally behind it. But also by turning the spotlight on female role models and letting them talk about the added value of the Start it community and the programme on offer. And not only the successful 'usual suspects', but also new faces from various sectors.
These role models need to break the stereotypes towards and prejudices against women in business. Because even in 2017, these still exist. There is a perception, for instance, that women are less competent in business. Whereas in fact research shows that tech start-ups founded by women record 12% more turnover and achieve 35% more ROI. What is more, female entrepreneurs have a 30% smaller chance of going bankrupt than their male colleagues, because they prepare better and work in a more rational, calculated way.
Sought: F for the next pitchwave
During this campaign, Start it @kbc wants to encourage as many female start-ups as possible to submit their business idea for the next pitchwave on 17 April. To reach all these potential candidates, the incubator is working with the Straffe Madammen (feisty women) network.
"Via our network, we invite women to submit their business projects on www.startit.be, to become mentors, or to take part in one of our webinars. There they are not only given information and tips on doing business, but female role models also share their experiences from daily practice. If you want to share your business idea, it is important to be surrounded by a tribe, a group of like-minded people who give you encouragement or help you back on track when you come up against obstacles," says Elke Jeurissen, founder of Straffe Madammen.
Subscribe for the webinars for female entrepreneurs from 6 March:
23/3 12.00 p.m. – 1.00 p.m. You already have an idea, but something is preventing you from taking the plunge.
29/3 10.00 a.m. – 11.00 a.m. You already have a company, but you want to make it scalable.
06/4 12.00 p.m. – 1.00 p.m. You want to considerably expand your company.
11/4 12.00 p.m. – 1.00 p.m. You want to submit your business dossier to startit.be and you still have some questions.
You can submit your business idea for the following Start it @kbc pitchwave until 17 April via www.startit.be.
Attachments:
#femalefounders #becauseits2017
Press contact:
For more information or to request an interview, please contact:
Saar Dietvorst / [email protected] / +32 468 19 75 07
About Straffe Madammen
The Straffe Madammen Club's mission is to increase the visibility of female talent in the media, on conference stages and within organisations. And that's really needed: Only 25% of experts in the media, 15% of speakers at conferences, 24% of company directors and 33% of entrepreneurs are women – despite the fact that women make up slightly more than half of the population. The Club encourages women from the worlds of business, culture and academia and other sectors to stop hiding their light under a bushel.
Since its inception, after a tweet in 2013, 45 monthly networking events have been organised – with female speakers taking to the stage. In 2015 an initiative was launched in collaboration with VRT whereby 40 women were invited to appear on news programmes as experts. In 2016, 300 women responded to our call to put themselves forward for the position of director and 100 of them were selected for our training evening. In 2017 we will be organising a third edition. In 2016 we also launched #72hoursreload, three-day inspirational trips to Portugal and New York in cooperation with Think Talent. The third edition is planned for April 2017. In the space of just 4 years, about 1,000 professionals have joined the network: managers, lawyers, entrepreneurs, culture professionals, professors, politicians, civil servants, social entrepreneurs, etc. It isn't a formal membership, but rather a moral one; all members actively help to increase the visibility of female talent. www.straffemadammen.com #straffeM
Press-file_-Start-it-_kbc.pdf
PDF - 741 Kb
Download
straffeM_startit_infographic_engels.png
PNG - 1.2 Mb
Download