Start-up BookWidgets wins Start it @kbc Award at Demo Day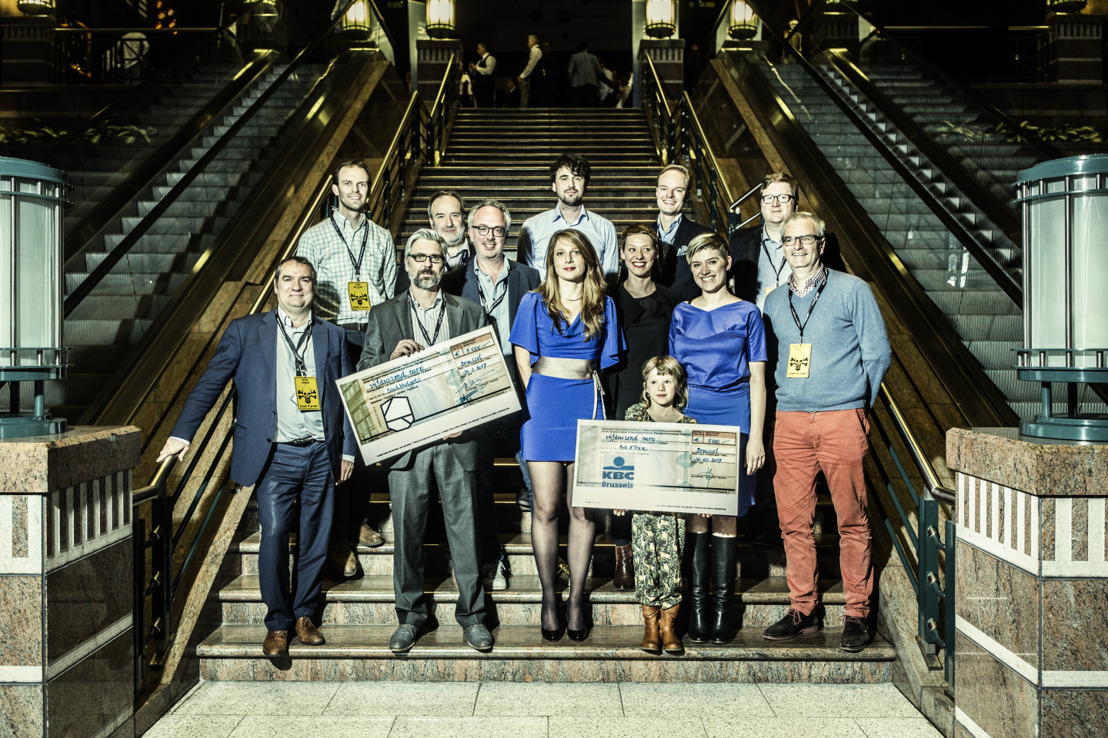 Brussels - BookWidgets is the winner of the Start it @kbc Award which Belgium's largest accelerator presented tonight during the Demo Day in Brussels. Founder Bart Buckinx received the prize thanks to the progress he made over the past few weeks in presenting, or 'pitching' his company in front of an audience. The three hundred business managers and investors present voted for Jill Vanparys from Ava & Trix as the winner of the Audience Award for the best pitch.
Convince three hundred critical entrepreneurs with your business idea, in the space of three minutes.14 start-ups took on this challenge at the first Start it @kbc Demo Day in 2017. Over the past few weeks, experienced speakers and actors coached the start-ups in their speaking skills in preparation for the Demo Day.
With the organisation of public pitches, business presentations in true Silicon Valley style, the accelerator Start it @kbc encourages start-ups to present their company in the best possible way to potential clients and investors.
Lode Uytterschaut, founder of Start it @kbc: "The first contact is often crucial as an entrepreneur, so it's very important that you convey your story well. A good pitch forces you to sharpen the focus of your story and to get to the essence in just a few minutes."
Most progress and best pitch
The Demo Day Start it @kbc Award goes to Bart Buckinx from BookWidgets. Start-up BookWidgets allows teachers to create fun and interactive lessons that are suitable for tablets.
Bart Buckinx received the award from Start it founders Lode Uytterschaut and Katrien Dewijngaert for the commitment he put into perfecting and presenting his pitch at the Demo Day. The award comes with a €5,000 cash prize.
Bart Buckinx, managing partner at BookWidgets: "As an entrepreneur you experience highs and lows and this Start it @kbc Award means a highest high for our team. We learned a lot from participating in this event, and truly enjoyed taking part. We will use our award to support new challenging interactive lessons for students and teachers."
KBC Brussels presented the Audience Award for the best pitch of the evening to Jill Vanparys from Ava & Trix. This start-up also received €5,000. The videogame Ava & Trix helps schools to stimulate children's interest in science and technology.
Damien Van Renterghem, CEO of KBC Brussels: "KBC Brussels believes it is very important to support the start-up community in Brussels. Via this unique event, start-ups have the opportunity to meet 300 business managers, and as a Brussels-based bancassurance provider we know better than anyone how important it is for an entrepreneur who is just starting out to build a network in the capital. This is why KBC Brussels is delighted to present the Audience Award and thus do its bit for the Brussels entrepreneurs of tomorrow."
Pitching in the virtual world: a first!
At the Demo Day, the accelerator Start it @kbc and partner Telenet Kickstart introduced the Virtual Reality Pitching Box. It allows start-ups to practice their business pitch at their own pace, in front of a 'lifelike' virtual audience.
Katrien Dewijngaert, co-founder of Start it @kbc: "With the VR Pitching Box we give start-ups additional opportunities to practice their presentation. We can't emphasize enough the importance of a good pitch, and together with our partners we will keep focusing on this."
Images Demo Day
Press file Demo Day
About KBC Brussels
KBC Brussels is the joint brand of the former KBC and CBC networks in our capital. Damien Van Renterghem, CEO of KBC Brussels, comments: 'KBC Brussels is aimed specifically at clients and prospects living or working in Brussels. Our headquarters in the centre of Brussels are a perfect reflection of our Brussels, European, cosmopolitan and multi-cultural embeddedness. Moreover, the dynamic character of Brussels is meat and drink to us. Born out of the bank-insurer KBC, we are a true start-up, ready to breathe new life into the financial sector of the Brussels Region.'
Press-file_Demo-Day.pdf
PDF - 3.0 Mb
Download