Start-up Notadesk launches Kickstarter campaign to boost the health and productivity of homeworkers around the world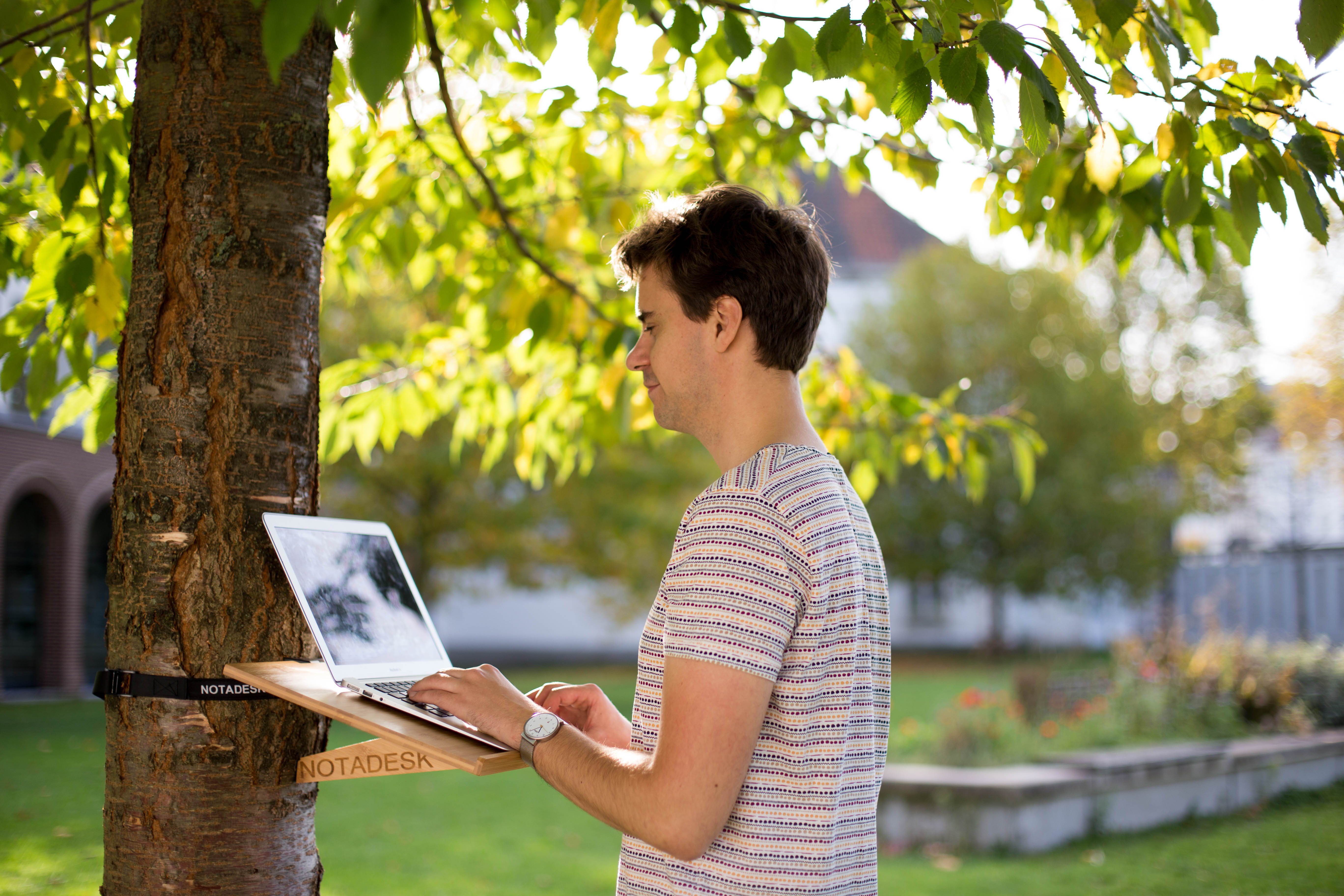 Ghent - The Belgian start-up, Notadesk launched a Kickstarter campaign a few days ago for its innovative mobile standing desk. The "Notadesk" offers both office and homeworkers a sustainable and mobile workplace, one that stimulates greater mobility, wellbeing and productivity. And with the support of Start it @KBC, Belgium's largest accelerator and start-up community, the campaign has already 98% of its target in about a week!
Since the pandemic, many of us have started to work more from home, often in less-than-ergonomic conditions. As a result, the demand for alternatives to the static desk or kitchen table has skyrocketed. The ideal time, in other words, for the Belgian start-up Notadesk to launch a crowdfunding campaign and to introduce a new version of its mobile workplace to the world.
Focused, sustainable and flexible work station
The idea behind Notadesk is very simple: an industrial-strength suction cup, tree belt or tripod lets you set up the work platform, wherever you want, with a flick of the wrist. At the window, on a table or even outside against a tree. Notadesk is the ideal way to teach a class or attend a meeting while observing social distancing rules. What's more, it is also a highly sustainable solution constructed from recycled plastic and sustainably produced and FSC-certified bamboo without the use of glue. Moreover, each element in the system is individually replaceable, thus minimising waste.
"Your body is made to move. As is your laptop. So why not your desk, too? Office work doesn't have to be a sitting profession. Notadesk's innovative furniture is designed to boost workers' (physical and mental) health and productivity. Because healthy workspaces stimulate people to zoom out, broaden their perspective and take sustainable decisions. Which in turn makes for a more sustainable society. The Notadesk is our way of helping to make that happen," says Notadesk founder and electromechanical engineer, Andreas De Smedt.
From the classroom to the Red Devils' locker room
The original Notadesk was launched on the Belgian and Dutch markets at the beginning of 2020. Around 400 have already been sold, good for over 50,000 euros in revenue. The community high school in Dendermonde, for example, placed an order for a Notadesk and Notaboard for its outdoor class. And even the Belgian Red Devils football team uses the Notadesk tripod in their away locker room.
"The local launch gave us the opportunity to finetune our communication and marketing approach. This Kickstarter campaign is now aimed at gaining an international foothold along with international partners for the Notadesk brand. And to be honest, it's just fun to think that Lukaku might be wondering at halftime whether it's a Notadesk or Not-a-desk," says Andreas De Smedt.
More info: https://notadesk.com/
The Kickstarter campaign runs until 15 October https://www.kickstarter.com/projects/notadesk/notadesk-portable-standing-desks?ref=bp4rqz&token=b0762d56.