Startup Staenis wins Start it @KBC Award during pitch competition
Audience Prize goes to startup Inmanta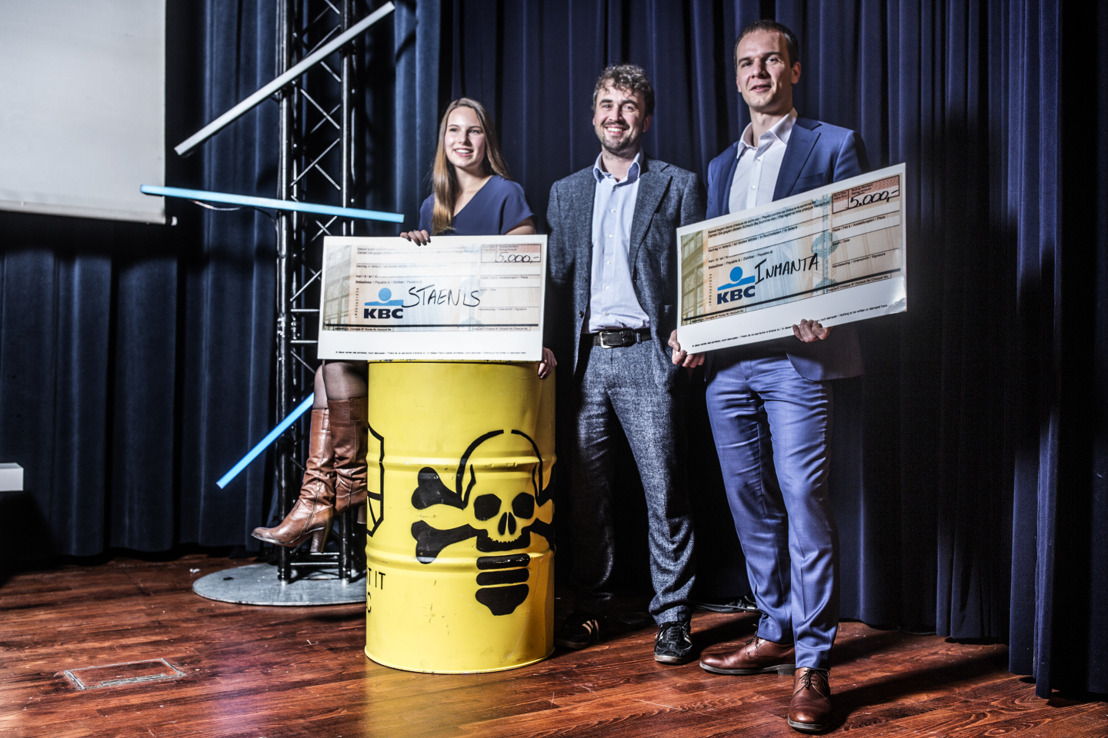 Startups Staenis and Inmanta take home Start it @KBC Award and Audience Prize respectively on Demo Day​
5 of the 16 Demo Day pitchers are women. Start it @KBC efforts bear fruit: female entrepreneurship growing slowly but steadily
The startup Staenis is the lucky winner of the Start it @KBC Award which was presented tonight during the Demo Day. Founder Daisy Bohyn received the award on the strength of the remarkable progress she made with her pitch. The audience of investors and CEO's voted Stefan Walraven from Inmanta as having the best pitch. Five of the sixteen participating founders are female. Start it @KBC, in partnership with Straffe Madammen, encourages female founders to start their own business.
Convincing hundreds of critical entrepreneurs and venture capitalists of the potential of your business idea in just three minutes! Start it @KBC today organised the third edition of Demo Day, the pitch competition in which promising start-ups are challenged to present their innovations on stage. In the lead-up to Demo Day, the startups received intensive support by a team of experienced public speaking coaches. Which resulted in all sixteen entrepreneurs delivering a top-class stage performance.
Lode Uytterschaut, founder of Start it @KBC: "Being able to present your business as an attractive proposition to potential customers or investors significantly increases your chances of success. Previous editions of our Demo Day have proven that a good pitch can open the doors to new sources of capital as well as to some of the world's top accelerators. This pitch competition is our way of encouraging start-ups to convey the quality and potential of their innovations with conviction and self-confidence."
Greatest progress and best pitch
The Start it @KBC Award goes to Daisy Bohyn from Staenis, for the commitment she displayed in perfecting her pitch. Staenis is the startup behind an innovative construction product that allows both professionals and home handymen and women to install high-quality, perfectly flat and damage-free screeds for flooring. The Staenis grid is the first innovative damage-free screed floor tool on the market that makes screeding very accessible and can be pulled with zero tolerance. The Start it @KBC Award comes with a cash prize of 5,000 euros.
The Audience Prize for the best pitch of the night was presented to Stefan Walraven from startup Inmanta. Inmanta enables telecom operators to deliver their services faster and in a more agile way. Its end-to-end service orchestrator automates and streamlines the entire operational process. Inmanta also receives 5,000 euros on behalf of his startup.
More and more female founders
Five of the sixteen participants in the Demo Day are female entrepreneurs. An improvement, according to Lode Uytterschaut: "With each new batch, we see an increase in female founders; proof that our efforts to reach more of them are working. As the largest startup community in Belgium, our aim is to take a leading role in that respect and devote even more energy and resources to boosting diversity in 2018. Mixed startup teams do better. That has been scientifically proven."
Elke Jeurissen, founder of Straffe Madammen: "I make it my mission to develop all female potential in our society. Only one in three entrepreneurs at present are female, which means there is a lot of untapped potential out there. Together with Start it @KBC, the Straffe Madammen network hopes to actively motivate all those women who are walking around with a good idea to actually get their own business off the ground. A big thanks to all the women – and men – who shared that call. An increase in the number of female founders in the community is important in order to create a 'tribe' with which other women can identify, and ultimately want to belong to. That is how we will make it even more diverse."
Images Demo Day.
You can find more information in the press kit below.
Start it @KBC Press Kit Demo Day Nov 17.pdf
PDF - 1.6 Mb
Download