Startups typically create more jobs than SMEs
Start it @KBC enquiry: employment, sales and investment in startups are on the rise
February 19, 2020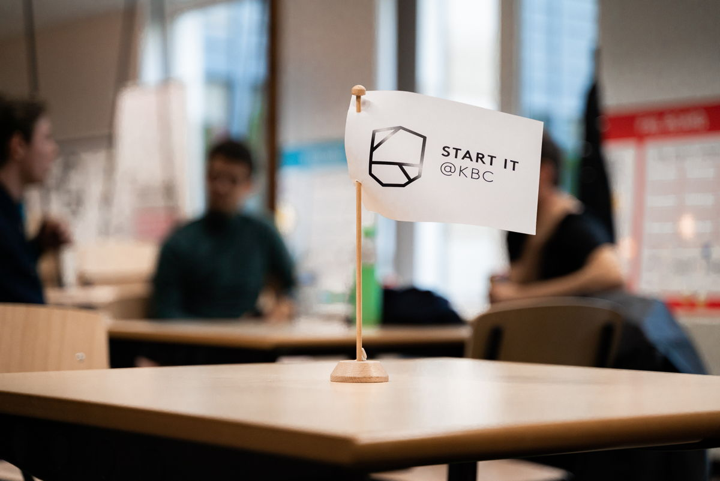 Brussels. The average startup creates twice as many jobs as the average SME in our country. Nearly nine out of ten SMEs are sole traders, within startups that is only 1.4 percent. This is demonstrated by a survey of Start it @KBC, the largest accelerator in the country. Along with the number of jobs and rising sales, investments in startups are therefore also increasing, however the role of the government certainly remains crucial at an early stage to allow startups to grow.
In order to assess the economic impact of the ecosystem of startups, Start it @KBC organised a second survey of more than 150 of its startups. We list some of the most striking conclusions.
Underestimated jobs engine
The impact of startups on employment is strongly underestimated. The average startup employs 4.8 people, while the average SME barely employs 2.5 people according to figures of the European Commission. Only 1.4 percent of startups consist of one person (the founder), while Unizo indicates that 88 percent of Belgian SMEs are sole traders.
Startups continue to create new jobs. In the survey they indicate that they are planning an average of two additional recruits in their team over the next year. This would mean 1.050 vacancies in 2020 for the entire Belgian community of Start it @KBC, consisting of more than 500 active startups.
Lode Uytterschaut, founder and CEO of Start it @KBC explains: "These figures are in line with the advice we give our startups to surround themselves with a team. To build a successful startup, you need different skills: you have to develop your product, you have to sell it, and you have to keep an eye on the figures,… Few entrepreneurs can do all of that themselves. It is difficult to market a new product or service. It's hard work, you´re guaranteed to face a few setbacks. Facing those times it helps if you can rely on co-founders or a team for mental support and additional expertise".
Average sales of 540.000 euros
The startups that took part in the survey already realised 83.9 million euro in sales since their launch. On average 540.000 euros per startup. The average sales since their launch is significantly higher than last year, which is not illogical given that many startups have had an additional year of sales.
Tom Simonts, Senior Financial Economist at KBC, responds to the figures: "We see an exponential growth in sales of start-ups, and that is good news. It is crucial for start-ups to sell as quickly as possible because that is the most reliable and stable form of income. The government could further stimulate that sale, preferably in the form of a support mechanism that 'ensures the risk to customers'. That way more companies and consumers will take the leap to buy from a start-up, without having to worry about any subsequent deliveries or such… With such a support mechanism, you will boost the economic value creation even more."
"Paying customers are still the most sustainable form of financing for a startup", confirms Lode Uytterschaut. "Startups that want to attract investors also have a serious advantage when they can prove there is a market for their products or services by means of showing their sales figures."
Subsidies attract other investments
More than 165 million euros, that´s how much the surveyed startups already raised in investments. Of course there are outliers – startups that grow purely with their own money and startups that raise particularly high amounts of money – but the average startup attracted investments of almost 450.000 euros. That number is also on the rise.
Venture capital appears to be the most important form of external financing for startups. This is not illogical, because the amounts of venture capital are usually much higher than those of business angels or bank loans. Remarkably, almost all startups (83 percent) had already attracted other investments before they turned to venture capital. These initial investments were mostly made by the government (VLAIO, Innoviris, …), in the form of subsidies.
"This shows that the government still plays an important role in financing startups at an early stage," Uytterschaut emphasises. "That´s an important insight to take into account in a savings exercise."
Startups looking for support can apply for the new group of Start it @KBC until the beginning of March. The jury will evaluate the pitches, and will also assist the startups that make the selection afterwards.