Turbulent supplies reliable and affordable power to Green School in Bali
Revolutionary micro-hydro plants give remote areas access to energy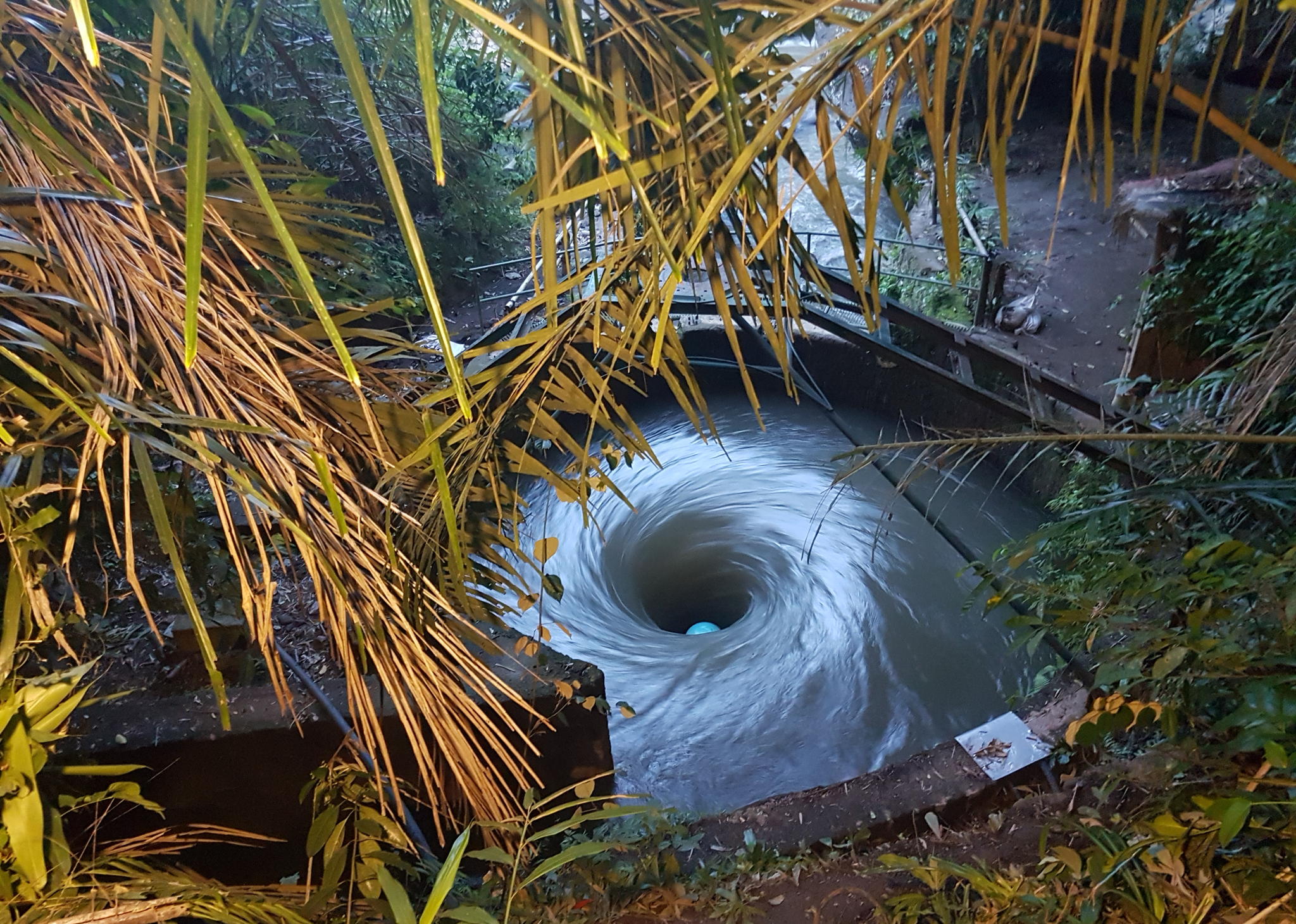 Bali / Brussels. Forget the massive dams that come at the expense of entire villages and ecosystems. The scale-up Turbulent has developed a revolutionary micro-hydro power plant that generates electricity from rivers and waterfalls with a height difference of just 1.5 to 5 meters. For remote areas with little to no access to reliable energy, this ground-breaking technology is opening up a new world of possibilities. Most recently, Turbulent's micro-hydro units are now servicing the Green School in the jungle of Bali (with 700 students, teachers and staff) and local neighbours with green, renewable energy.
The Green School has been in search of a reliable source of energy for more than 10 years now. The school with an ecological focus is located in the middle of the Balinese jungle and is therefore left to its own devices when it comes to generating electricity. The search led to the micro-hydro vortex turbine developed by Turbulent, which today supplies power to both the school and neighboring residents. To generate the same amount of solar energy, the Green School would have had to install the equivalent of more than four tennis courts of solar panels.
"The main advantage of hydropower is that it is incredibly reliable," explains John Hardy, who founded the Green School together with his wife Cynthia. "The sun goes down at night but the river keeps on flowing 24/7. The biggest challenge was the extreme weather conditions, especially during the wet season. Luckily, Turbulent's hydro turbines are perfectly capable of dealing with the fluctuations."
Pioneering revolutionary technology
Hydropower has long been synonymous with enormous dams on major rivers. However, those dams also have a major impact on people and local ecosystems in and around the water. Moreover, their construction is an expensive and time-consuming affair. Turbulent's revolutionary technology, however, overcomes all those obstacles, making hydropower accessible to a far wider group of people and companies.
"Our turbines extract power from rivers and canals with limited height differences: between just 1.5 and 5 meters," says co-founder, Jasper Verreydt. "In the past, such waterways were simply not viable for hydropower. But now, even very remote areas can have access to a reliable source of energy. It is also possible to connect a whole series of turbines together, in order to service larger regions. What used to require a dam, for instance, can now be achieved with a series of hydro turbines. The resulting energy output is the same but they are much faster and cheaper to install and have far less impact on the environment."
"The Balinese project is a clear demonstration for companies and governments that there are more reliable, affordable and sustainable alternatives already available today for the production of energy. There are millions of small rivers and waterfalls in Southeast Asia, for instance, which are ideally suited to micro-hydro power plants such as the one in Bali. But even in Europe, we have identified over 350,000 sites that are perfect for micro-hydro."
From Taiwan and the Philippines to Suriname and Chili
Besides Bali, there are also farming communities in Chili that already use Turbulent's hydropower units to extract energy out of irrigation canals. And new installations in Taiwan, the Philippines, Suriname, France and Estonia are in the pipeline.
"Our turbines are a perfect response to the growing demand for green, renewable and decentralized sources of energy," confirms Verreydt. "We can install the micro-hydro plants in just a few months and they are easy to maintain by the local communities or companies themselves. Which also gives the local economy a boost."
/////
Annexes:
Press kit
Turbulent in Bali movie
Turbulent movie
About Turbulent
Turbulent is a green-tech company dedicated to the development of vortex water turbines that generate energy through hydropower in rivers and canals with minimal height differences of 1.5 meters to 5 meters per turbine.
Turbulent's 100% green technology is accessible, cost-effective and more reliable than other renewable energy sources since it is available around the clock and all year round. Moreover, its impact on the surrounding environment is next to nothing.
Turbulent was founded in 2015 by Geert Slachmuylders (CTO), Jasper Verreydt (CEO) and Luc Berben (COO). And while the green-tech company's headquarters are located in Leuven, Belgium, its operations span the globe. Turbulent currently has projects in Chile, Taiwan, the Philippines, France, Indonesia, Portugal, Estonia and the United States. Turbulent has won several prizes and awards including the EU Seal of Excellence, Best-start-up-in-the-world, MIT innovator under 35 and Future of Logistics. Turbulent was also awarded with the Horizon 2020 Grant, the premier league of tech and innovation funding.
Press Kit Turbulent
PDF - 18 Mb
Download